Easy Crumpets Recipe - Food.com
:
'via Blog this'
Hmmmm.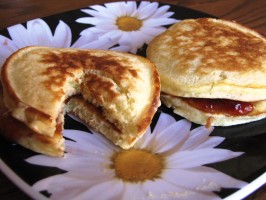 This is my mom's recipe for traditional SOUTH AFRICAN crumpets (little pancakes, or flapjacks). They are great for kids and they are melt in the mouth! My mom used to make a huge amount to send to school for birthdays - what a hit! They don't have yeast, so if you are looking for another type of crumpet, this isn't the recipe for you.
Ingredients:
2

cups

plain flour

3/4

cup

granulated sugar

3

teaspoons

baking powder

3

eggs

1

cup

milk

2

tablespoons

butter, melted

Directions:

Mix everything, leaving butter for last.

2

Grease a flat bottomed frying pan or griddle.

3

Drop or pour small amounts of batter onto griddle.

4

Turn and cook other side when bubbles break on surface of crumpet.

5

Heat should be medium to get a deep, even golden colour.

6

Serve warm with butter and jam sandwiched together.